We built the '96ss' so as to bring back to life the 96 with its proven racing history.
The 96ss is the coming together of the old 96 with the modern 9-3ss. It was fitting that the 96ss should be 'introduced' to the world from its original birthplace in Sweden.
The 96ss together with the Grinnall (which we built in 2008) therefore started their journey from our premises in Waltham Cross to Sweden on Saturday 25th May. They were loaded on our transporter and were driven by us to Harwich where after an 18 hour crossing, they then embarked upon a twelve hour journey from Esbjerg in Denmark to the headquarters of Maptun in Orebro Sweden for an initial tuning.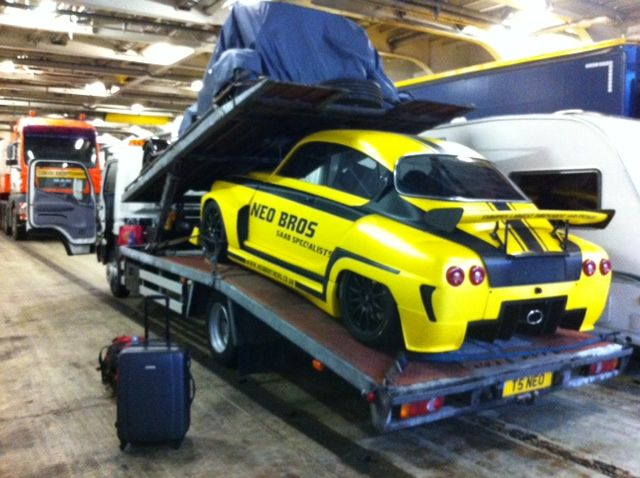 From there, both cars were then taken undercover down to Trollhattan where the Saab factory and the Saab Car Museum are located in readiness for the Saab Festival which started on Thursday 30th May. During the night, the 96ss was allowed to 'stay' inside the museum together with the other historic Saabs.
During the day, the Grinnall and 96ss were parked in pride of place at the entrance to the museum although, the 96ss continued to remain under cover of the black and yellow Neo Brothers sheet. Much anticipation was generated until its unveiling.
Bearing in mind the fact that the 96ss takes its core shape from a 96, we felt that it was entirely fitting that two famous rally drivers who earned their reputations in the heyday of the 96 should unveil our car.
At 11am on Sunday 2nd June on a bright sunny morning, the 96ss had its world debut. It was jointly unveiled by Erik Carlsson (who was the rally driver of Saab in a 96 and who went on to become the 'first superstar in the World of Rallying') together with ('the Flying Finn', who also raced in a 96) in front of a large crowd of Saab enthusiasts. It was 'introduced' to the waiting crowds by Peter Backstrom the head of the Saab Car Museum. The unveiling was professionally captured on video.
http://www.youtube.com/watch?v=zBCdsyfcqj8
It was warmly received and indeed, stole the show especially when it was started and 'growled' at the spectators. Simo then took it on a parade of honour around the crowded grounds of the museum.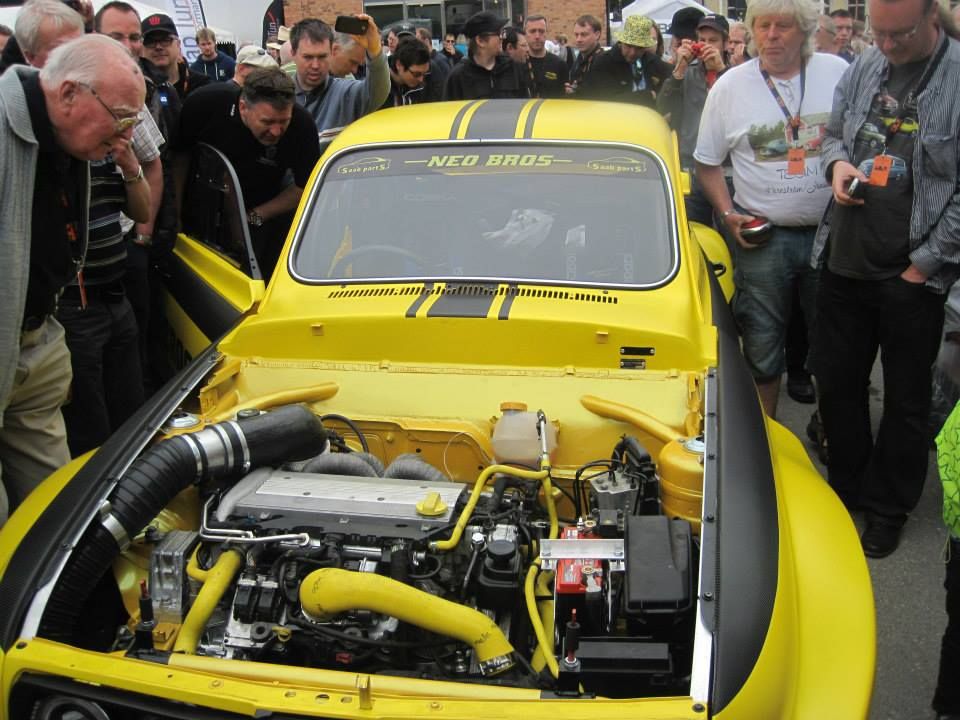 Our two managing directors were interviewed by TV, radio and newspaper reporters who respectively lavished praise on the car.
The 96ss will now remain in the Saab Car Museum until the end of July when it will return back to Waltham Cross in readiness for its UK debut at the forthcoming International Meeting of Saab Clubs in August 2013 in Kettering.
Neo Brothers