Done some more testing today. The ac compressor does kick in briefly after startup but I reckon the pressure is too low for it to work properly hence why the compressor doesn't remain running and the fan doesn't run to cool the condenser. Running the ACC on LO gave an in vent temperature of 13.5 degrees so it's definitely not working.
Further testing also revealed that the coolant temperature sensor is in fact working just fine as the fan did finally kick in today at a precise temperature of 102 degrees. Was out for well over an hour and kept the laptop connected for data logging and the temperature hovered between 82 and 91, averaging at about 85 degrees. I still can't believe the difference in how the thing drives since removing the heatplate. It's lost all of that jerkiness when coming off the throttle and no more "kangarooing" when trying to crawl at idle. It is now butter smooth to drive.
I did some data logging to see how the changes to the map had affected the boost control. Still not quite right but not too far off.
The turbo is a lot less "laggy" than it used to be too, I'm now getting 1 bar of boost around 2.2K where it used to be around 2.6K.
This log is back from when I first started tweaking the boost control to reign in overshoot. The lag is easily observed here.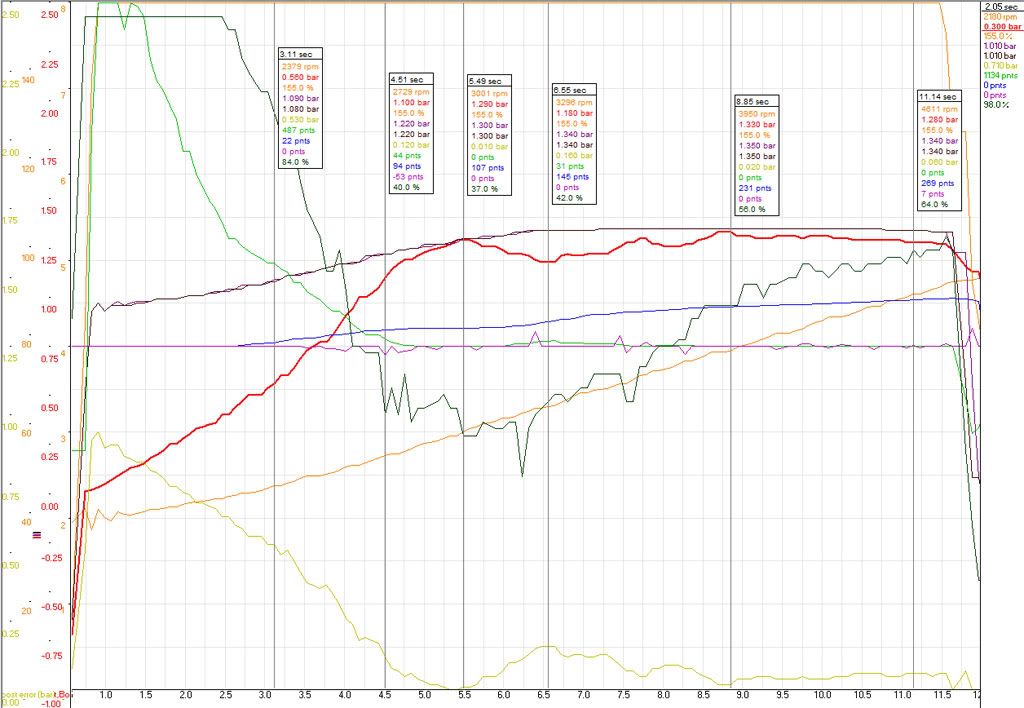 This is the data log from the dyno run in 2012. Notice that boost doesn't really peak until 3k.