Got a few things done today.
Firstly gave the roof rack and all of its fittings a second coat of paint. Has covered quite nicely actually.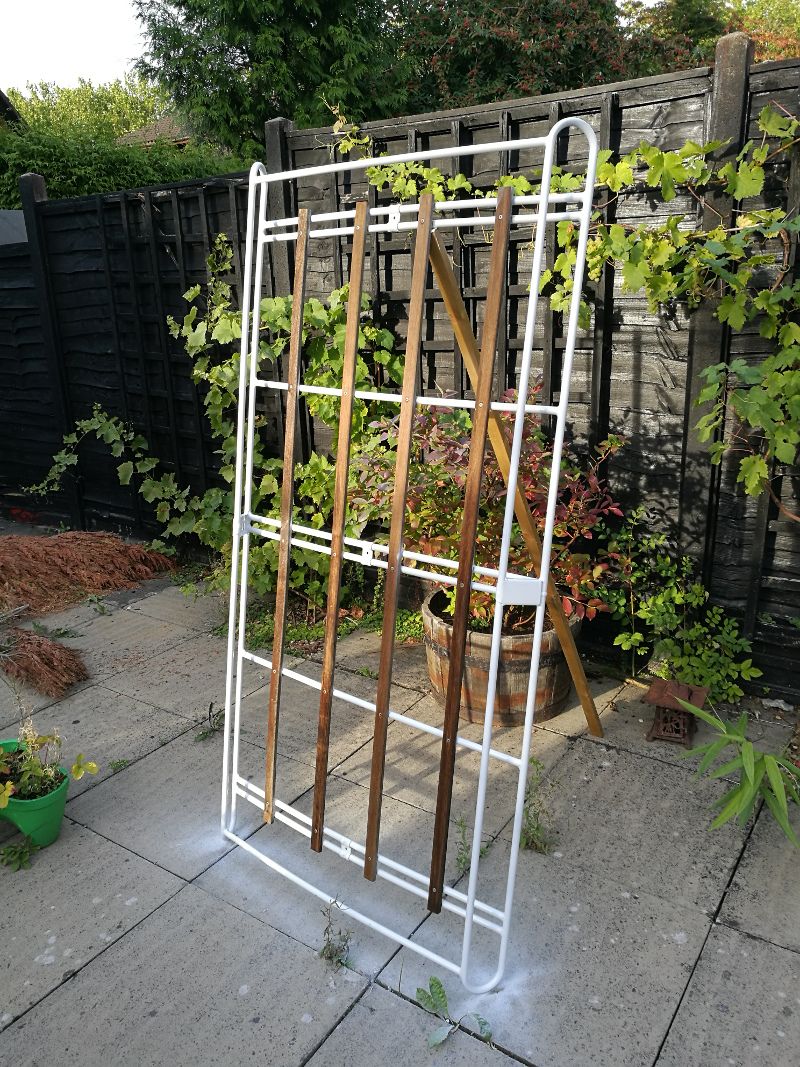 Then spent a good hour hunting the noise on the Lada. Closer inspection suggested that it's not a clunk at all (there is a slight clunk through the steering which is coming from the idler bracket as discovered last week...that however is totally unrelated). It's a much sharper crack that seems to be coming from something that's binding. Having spent far too long crawling around under the car while the suspension was being rocked (handy having a full 6" of ground clearance), I *think* I've tracked it down to either one of the top wishbone mounts or the top ball joint on the nearside - I don't think it's the ball joint though because it doesn't do it when you move the steering - only when the suspension is disturbed from rest. It's silent if you keep rocking the car - it only does it when you disturb the car after it's settled. Really odd. I've had a creaky ball joint before, but that was a heck of a lot easier to track down than this one!
While I had the bonnet open Darren noticed the light, which I commented on the fact that I'd never actually seen work on any Riva or Niva...Of course this then resulted in us scratching our heads and poking it - I had the AVO to hand from yesterday when I was checking the output from the Lambda sensor after all. Sure enough there was no power to it - and then I had the thought of "I wonder if the headlights have to be on?" Sure enough, sidelights on, and it lit up probably for the first time since the car was new. Just need to find the shade for it now.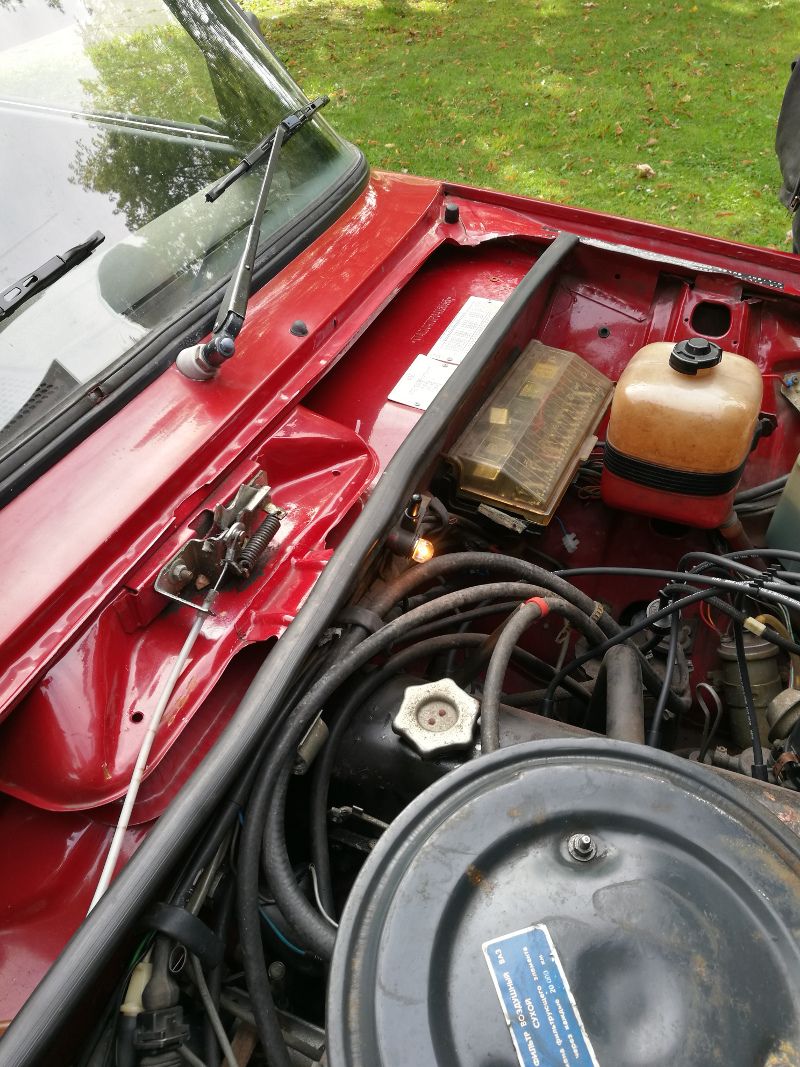 Wasted us about 20 minutes from what we were actually doing, but that's often the way isn't it!
Back on track, I noticed this mess on the radiator fan shroud.
This engine bay is full of these eeeeeeevil hose clips that the Eastern Bloc manufacturers in the 70s and 80s seemed to love - Skoda was full of them when I got it too. Thankfully Lada at least don't have the same obsession with the green self-destructing fabric braided hose that Skoda do!
The antifreeze residue at virtually every hose joint suggests that even though this is the only one visibly leaking, that they're all less than perfectly sealed, so made a quick run over to Motorserv, and bought a whole bunch of hose clips...
Figure if I've got to disturb the cooling system I may as well do the lot and just know it's been done. At least I don't need to do battle with those horrible things again in future then!
Turning my attention to the to do list inside, I set about investigating the floppy steering column shroud which was loose enough that it repeatedly interfered with my foot when coming off the brake pedal. It's cracked in several places courtesy of the scum who nicked the car a few years back (and thankfully lost interest only a few streets away and didn't torch it or anything), and as a result simply doesn't have the rigidity to stay in place as it should. I'll get a new shroud ordered soon, for now I've opted for the highly technical solution of wrapping a couple of cable ties around it...You wouldn't notice them if you didn't know they were there.
While I was standing on my head doing that I noted that for some reason I could see daylight through the bulkhead somewhere up around where the heater hoses go into the engine bay. The penny dropped at that point, that the heater matrix and heater valve had been changed at some relatively recent point by the Russian mechanic who looked after the car. There's meant to be a rubber boot which covers the hole where the pipes pass through the bulkhead, but anyone who's done the heater valve on either a Niva or Riva will tell you that it's an utter pig to refit if disturbed. Now there's something I've learned having bought several cars off Russians - they seem to generally be fantastic engineers where it comes to keeping the oily bits going just fine, but often lack some finesse where other details are concerned...so things like little rubber bungs and such have a tendency to disappear. This also quickly explained why I seemed to have somewhat more mechanical noise in the cabin than I originally expected - of course I do, there's an inch or so diameter hole straight into the engine bay! A temporary repair was fashioned out of self adhesive aluminium tape normally used for air conditioning ducts, but I'll get a new cover ordered and then spend an hour or so swearing at it to get it into place when we're back from holiday. I can report at least a 20% reduction in in-cabin noise from the valve train has been the result of my temporary repair.
While I was fiddling around inside the car I decided to have a poke at the none-working rear window washer. The voltmeter in the dash told me that it was drawing power, but there was no sound from the motor suggesting movement. Offside trim panel off in the boot gains access to the washer bottle (it's actually attached to the trim panel rather than the car), and operation of the pump was restored by the highly technical process of whacking it a bunch of times with a screwdriver. I then added some screenwash...and discovered that the tank leaks like a sieve. The fact that it's leaking through what is patently obviously a manufacturing defect suggests that it has leaked since the car was built in 1993 and probably never worked. It does deliver screenwash to the rear screen though, so I'll get a new tank ordered and hopefully get that ticked off.
On the plus side...Unlike certain other automotive manufacturers (Citroen, I'm not naming any names..Oh...oops), Lada still supply virtually any parts for the Riva (only bits they don't are the steering gear bits bespoke to the RHD cars - and fair enough, there are probably a couple of hundred of them left in total), and they cost pennies. *Usually* they're easy to change too...Usually. There are exceptions mind you...You never, ever, ever want for example to change the steering box. It's simple to do...Except for the fact that the brake master cylinder, clutch master cylinder, brake servo, exhaust manifold, inlet manifold, carb and the engine are all in the way.
Soaked in screenwash by that point and running out of daylight I decided to call it a day.