Greetings all!
It is fair to say that the motoring Gods have not been kind in recent times...........
First there was the strange knocking from the passenger wheel on my much-loved 9-3 Aero that was wrongly diagnosed as being a fault with the gearbox that ended like this........
Luckily it happened at low speed and I was the only person in the car and no one else was involved. I unable to comment on this too much further at this time........But I am very happy to say that the boys at Abbotts were incredible, scraping the car off the road and giving a lend of a car to get home!
So this left with me a problem.....I needed a car so I went and got this (pictures from the ad on Carandclassic);
Attachment:
big red 2.jpg [ 9.86 KiB | Viewed 2260 times ]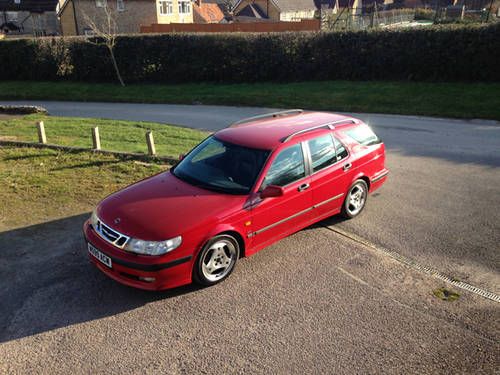 Here is a little from the ad
For sale is my great looking Saab 95 Estate, in the very rare and distinctive Laser Red colour... Completely standard, no modifications with the 230/250bhp 2,300cc High Output Turbo HOT engine. Reliable 5 speed manual gearbox, NOT AUTO GEARBOX... Recent battery, clutch, oil, air filter, belt idler and belt... Had fuel system terracleaned as well... Recent rear Bilstein yellow shocks and exhaust system. Aero Hammerhead alloys with matching Michelin tyres all round. 146,000 miles with service book and many invoices (all parts listed above has invoices). MOT'd and taxed (tax not transferrable of course)... Black leather interior with heated front seats that work lovely! Grey trim and carpets, with matching carpet mat set. Rear load cover present and correct, nice and tidy interior, definitely not a pet-mobile!... All the displays work, no missing pixels, factory 10cd changer in the boot and single cd/radio etc factory hifi in the car too. Remote central locking, electric windows etc.
It was listed at £795 - but after sending a few emails back and forth the seller said that I could have it for £500 as it had a 'blow from the exhaust manifold'........which it certainly did have! But I struck a deal there and then and drove it home from Northants. It went like a scalded car - easily the fastest Saab I have ever owned.
Upon returning home it was clear that 'there is a car in there' - but it needed it be booked in to Leelac to do the following;
1. Sump drop
2. And repair of the manifold
When I got to Leelac's place last Tuesday I was greeted by Dawid and his wife telling me that the engine was knocking.......not what I wanted to hear....But I waited while Dawid dropped the sump and nothing was found. Fast-forward to today and I have her back - all is good! Leelac dropped the sump and replaced the exhaust manifold gasket (finding 3 broken studs along the way.....which explained the 'knocking engine fears'......phew!) all done for £350! Definite result!
So what are the plans in particular order
1. Get the bonnet resprayed (really horrible.....)
2. Silicone hose kit
3. Source a rear spoiler
4. Karl remap
5. Air con needs attention....
6. Source and fit replacement inner wheel arch..........see my wanted ad for an explanation......
Pretty pleased with her and even Mrs B loves her - she is a pretty girl!