Well I know I post a right load of old gibberish most of the time, is that spam?
I dont know, I thought spam was loads of links to porn sites blasted all over the place...& I like to keep those to myself!
I suppose I could be classed as a troll, but Im not 100% sure what one of those is to tell the truth.
Oh, I dont do pot, no issues with those who do, thats up to them but its a big no no for me.
I do have a good relationship with the kettle though, it gives me coffee so we get on well.
Is this a spam post or am I trolling?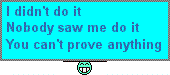 I need to learn more about these computer terms.