There's lots of info on this mod on the web, but it's mostly on Saab Central and Saablink, and I thought some of you guys may be interested in my experiences anyway. This thread is intended to be more of an overview, for the details you'll need to research!
I first got talking to Saabmatt, about his T5 conversion at the Cadwell track day in 2009. His car is brilliant, and he's helped me no end doing this conversion, with advice, lending me bits etc. couldn't have done it without his advice.
Going back to Cadwell, I also had a ride in a 9000, with a stage ? tune. My 900 came out of the corners quicker, but on the straights this car just pulled and pulled where mine ran out of puff. From that day, I knew I wanted to convert my car. What I was looking for was a slightly more powerful car, but with better, more useable power delivery, i.e. no boost spikes and less boost tail-off at high revs. Plus, I hate the way the distributor always leaks oil onto the heatshield!
So before anyone embarks on a T5 install, I'd recommend reading these threads on Saab Central
http://www.saabcentral.com/forums/showt ... p?t=162197
and Saablink
http://www.saablink.net/forum/showthread.php?t=33456
.
There's loads of info on these threads, lots of really good detail, and it takes a long time to read them! But bear in mind they're based on a Bosch EFI equipped car, and many UK c900 turbos will be Lucas. But there's an excellent wiring diagram on the Saablink thread – I printed that out to A3, and referred to it all the time.
So how hard is it to do this install? If you can follow a wiring diagram, and can do a bit of 'creative' engineering, it's not too hard. If, after having done all the research, you're still not sure about the whole thing, I'd suggest it may not be for you.
Finding the parts was easy – I already had a DI cassette, and Espin 99 (who I also met at Cadwell) was breaking a 94 9000 Aero. Parts were had. Cheers Mal. I would recommend that you get everything from the one car if you can – not essential, but makes things easier.
Eventually, started work on the project last summer – managed to find a little workshop to rent in a friend's farm.
First – take everything off. Bonnet, turbo pipework, intercooler, throttle body, AMM & airbox, APC box, ignition module, injectors complete with fuel rail, coolant temp sensor (not coolant sensor for gauge), distribuor, coil, HT leads, spark plugs, Lucas ECU. We won't be needing some of them again.
My plan was to use the flywheel as a trigger wheel, so off comes the clutch cover, clutch slave and clutch assembly, and flywheel.
Fit:
Throttle body, injectors, fuel rail, AIT, Idle control, MAP sensor, BPC.
All pretty simple, I made some studs up to mount the fuel rail on the original fuel rail mounting points in the inlet manifold, used some 8mm threaded rod and some ally tube stock as spacers. Also makes a good place for p clips to secure your loom.
Fuel rail & first 'trial fit' of the loom: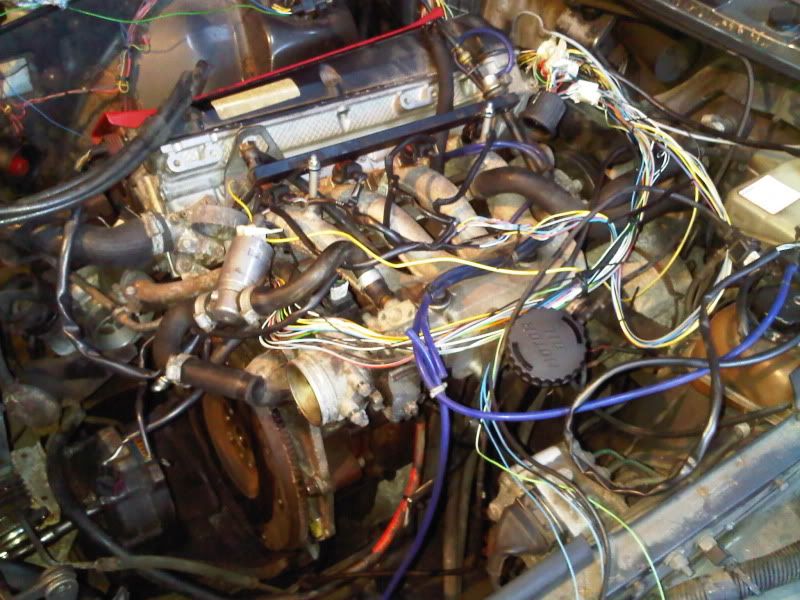 Start to wire up the loom:
It's not difficult, if you have taken the loom in one piece, most of it just connects to where it connected to before. Be aware that there are different types of TPS, AIT and idle control connectors if you have sourced the parts from different sources. Best to get all the bits off one car.
Be aware that some of the components need a switched power supply – the BPC, O2 sensor, injectors and DI cassette. Check out the wiring diagram, find which wires need to be wired in to a power supply (red and grey or red and green mostly, if memory serves) and find a switched power supply. One I used was the power supply to the coil, and handily placed.
Again, check the wiring diagram, there is a red wire (spliced into 2) which needs a 'hot' power supply – I wired it directly into the +ve distribution block on the drivers side inner wing, but I think I'll change that – or add an inline fuse.
There should be a large plug about a foot or two up the loom from the ECU connector. You need some feeds from this plug to wire into the connector from your Lucas injection ECU plug, in the drivers footwell.
These are:
CEL Pin 32 on T5 ECU, goes to purple/white wire on Lucas ECU connector which went to pin 10 on Lucas ECU
Main relay Pin 31 on T5 ECU, goes to yellow/white wire on Lucas ECU connector which went to pin 12 on Lucas ECU
Fuel Relay Pin 56 on T5 ECU, goes to purple wire on Lucas ECU connector which went to pin 16 on Lucas ECU
Speed sig Pin 39 on T5 ECU, goes to green wire on Lucas ECU connector which went to pin 6 on Lucas ECU
Now for some hardware:
MAP sensor location: Can go anywhere really, there's loads of cable in a 9000 loom. Not sure about an NG900.
Air filter:
I bought a cheap mushroom filter off ebay, and cut a hole in the LHS inner wing. I used a 9-5 AMM sensor hose, and a little joiner, to connect it to the standard 900 intake plastic hose.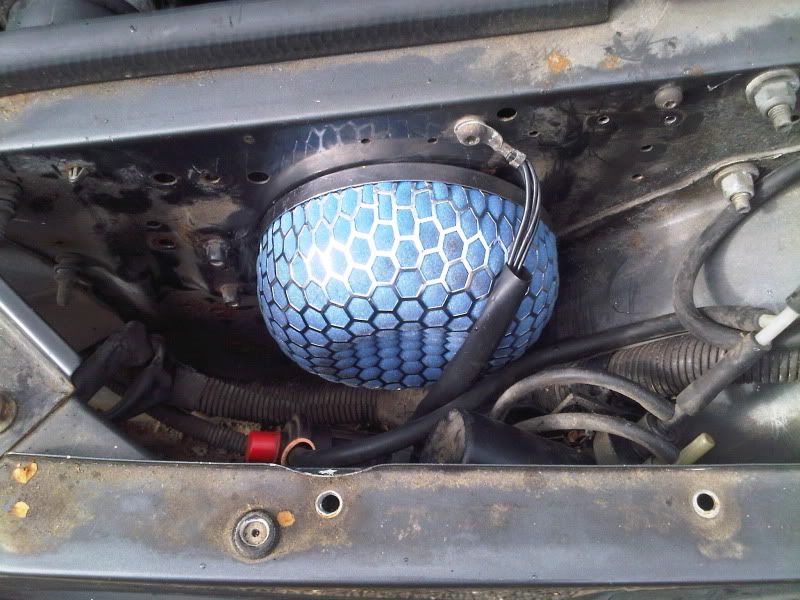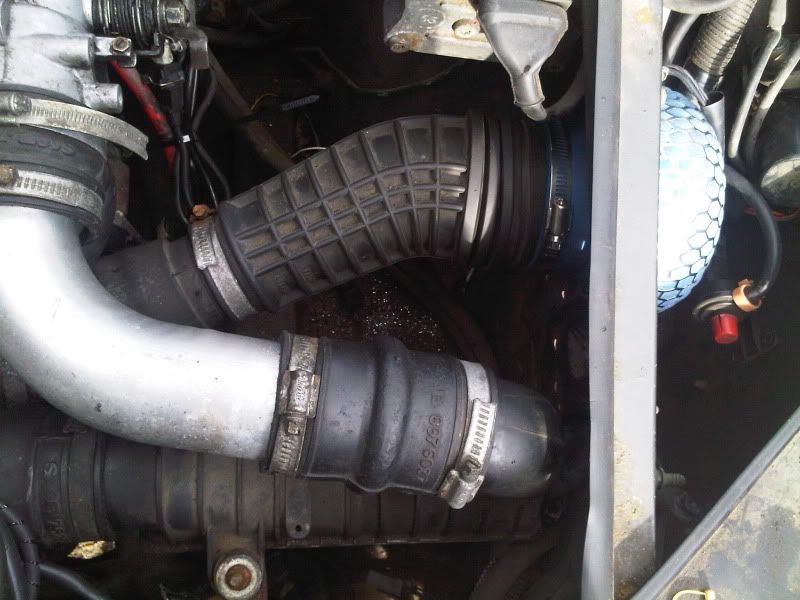 Seems right to fasten the boost solenoid to the front slam panel.
You can also see the air inlet temp sensor in this photo.
I couldn't find a nut to go on the AIT sensor, so I drilled and tapped the inlet elbow. It's not really thick enough to tap, but it's held so far. I suspect it won't take too many removal/fits before the thread won't hold anymore – but how often will I do that?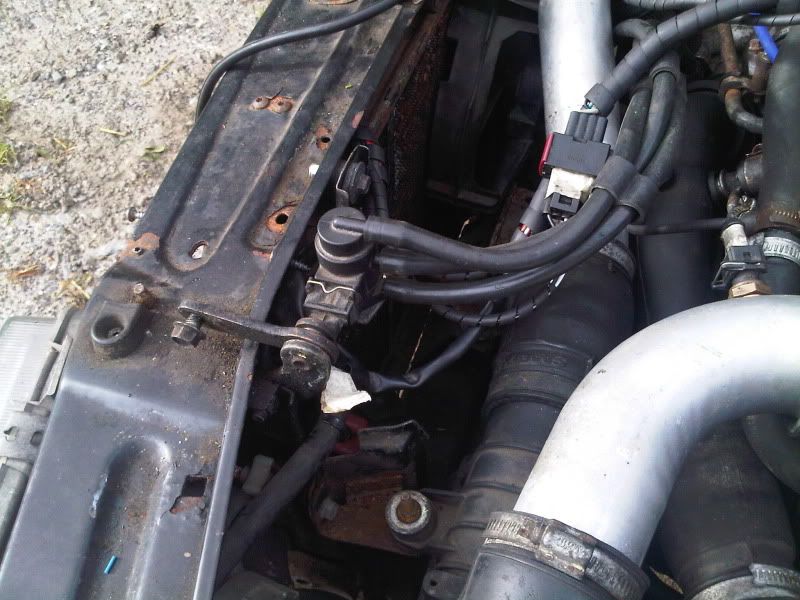 O2 sensor location:
I drilled & tapped the boss in the elbow – looks like it was designed to have an O2 sensor there.
I never liked the idea of mounting a trigger wheel on the crankshaft pulley, so I plumped for a trigger wheel built into the back of the flywheel. Because I'm skint and tight, I decided I would do the job myself by drilling holes in the back of the flywheel.
I must admit, I didn't take enough care over this, some of the holes weren't drilled too accurately, but it did actually work – more of that later:
First trigger wheel: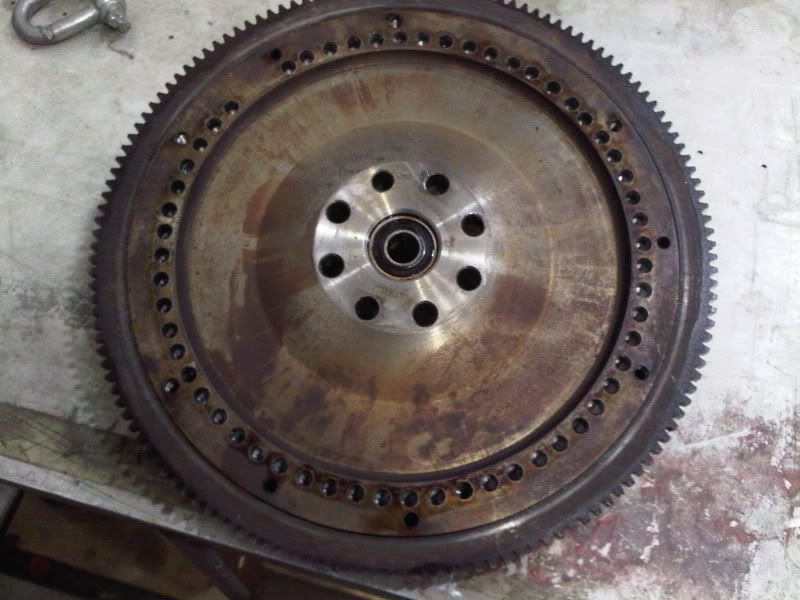 Not a great photo, but you can see the CPS fitted to the clutch backplate;
Throttle body:
This was an interesting one. It didn't have enough stub pipes on it – no-where to fit the standard recirc dump valve pipe. It did have a blank though, so I knocked the blank out, removed the stub pipe from the removed throttle body, and epoxied it in.
You need the throttle body as the TPS is different, but I believe you can do a wiring mod to the Lucas TPS and make it work – not too sure about that.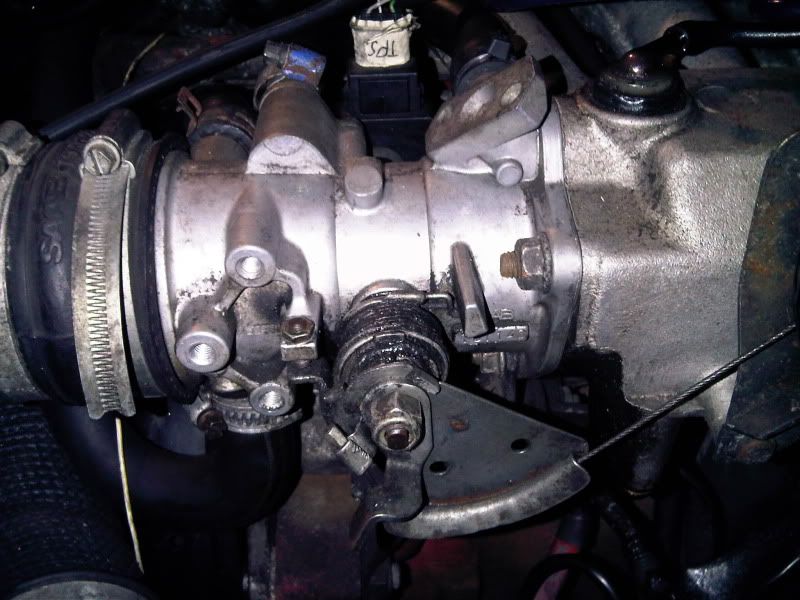 Idle control:
I mounted the Bosch idle control in the standard C900 spot, and bodged the air pipes to suit.
1st run: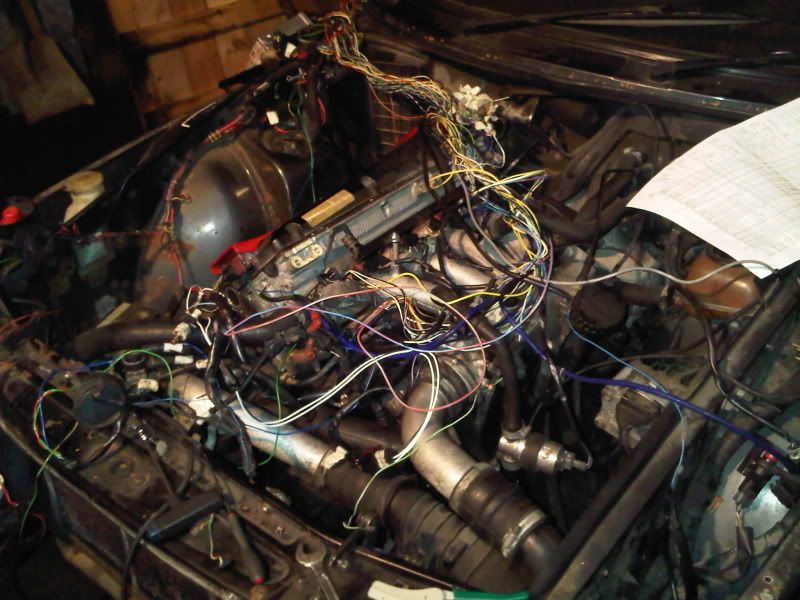 So I got it to run, but not without some hassle. First time I tried the key, nothing. I realised I couldn't hear the fuel pump running. I checked all my connections, particularly those in the footwell, to the main and fuel pump relays. All seemed to be well.
So, I ran in separate earths for both these 2 relays (bypassing the ECU) and the fuel pump fired up, shortly followed by the engine when I turned the key! Saabmatt was good enough to re-flash my ECU, as I wasn't sorted out with a BDM at the time, but it wouldn't take a flash – so we tried my spare ECU, which took a flash, and – when plugged into the car – gave me my grounds for the relays. Excellent. I think the issue with the first ECU was VSS, so I would suggest you re-flash your ECU first up, unlock the SRAM and make sure VSS is switched off.
But that was the worst of the hassle – all went surprisingly well.
So a lot of tidying up of the wiring loom etc.
So all was good until the first time I took it out on the road and gave it some welly. First of all it ran nicely, pulled well, right up until it hit 3500 rpm. Then it felt like it had a rev limiter fitted, the revs just bounced off, and it wouldn't rev any higher.
After much fault finding:
http://www.saabcentral.com/forums/showt ... p?t=192797
I changed the trigger wheel from my home made version to a professionally machined one I bought off Saabmatt, and all was good.
Or so I thought – turned out it wasn't the trigger wheel after all, but a small reduction in the inlet tract, down from 2.25" to 2" - must have been just enough to introduce a stall into the compressor inlet at that particular engine speed/airflow. A slight adjustment in the inlet (bodged some other pipes to fit) and all really is good this time.
Final trigger wheel: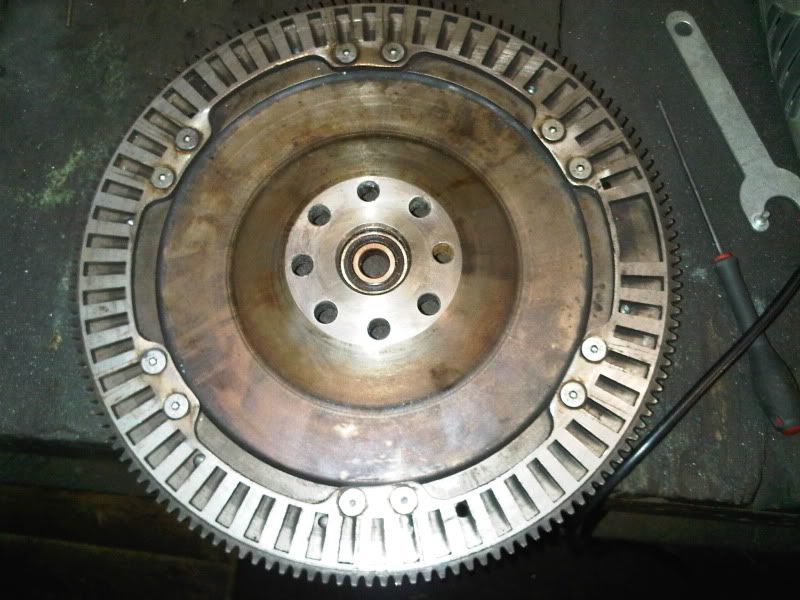 All I need to do now is extend the loom so the ECU can go in the same spot as the original Lucas FI ECU, and we're done. I plan to run it a few more weeks before I do that, just in case anything unforeseen comes up.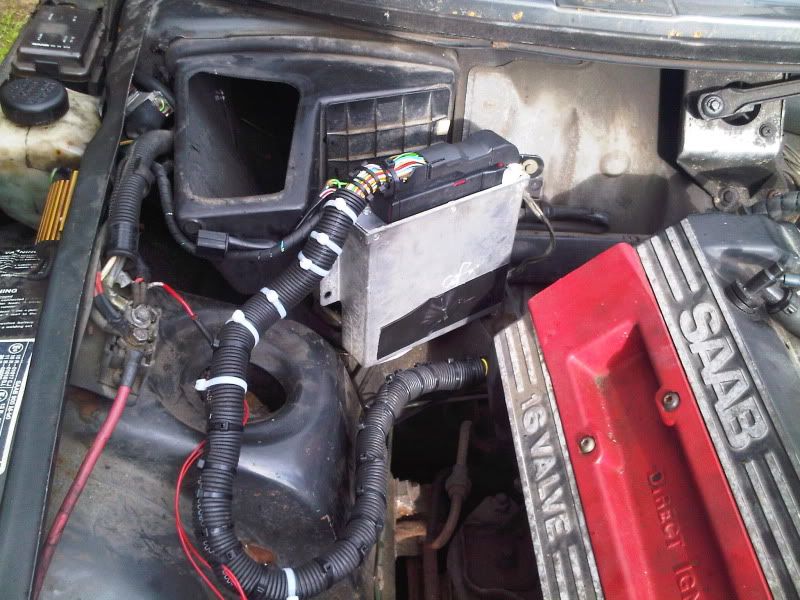 As far as the ECU's concerned, thus far I've loaded a 9000 FPT map, tuned to stage 2 using T5 Suite, plus a little extra boost at the top end, and some smoothing out of the lumpier bits of the maps. It goes brilliantly at the moment, I took it to Mallory late last year, and all held up really well. I'm hoping for around 220 bhp at the crank, maybe a little more – T5 suite is telling me I'm making much more, but I don't really believe that!
Mallory: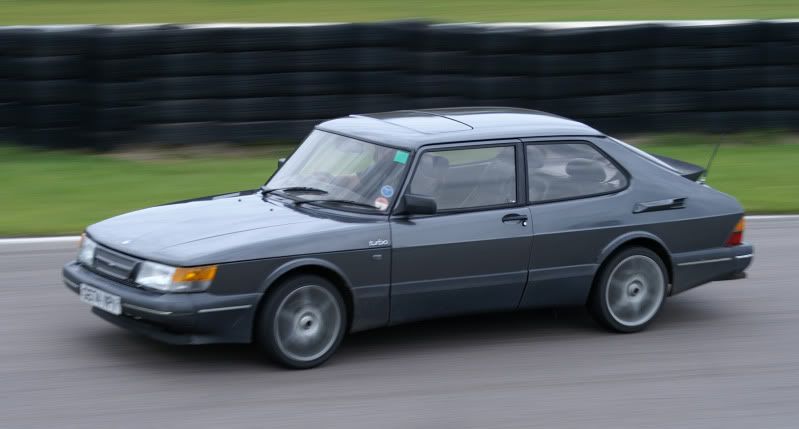 Must get it on the rollers sometime soon.