9-3 (originally 2.0lpt T5 engine)
New updated spec.
B234 2.3ltr (ex 9000) engine rebuilt bottom end Bored/honed +0.5mm
Wossner Forged Pistons
Autoverdi forged conrods
ACL race bearings
Nottingham Saab Balance shaft delete kit
ARP Head studs
Abbott Racing Ported Big valve head with stainless Valves & uprated springs
catcams 276 degree 12.5mm lift cams with custom adj. vernier wheels
Tubular exh manifold Maptun - custom Modified to T4 Flange & external wastegate takeoff
Tial MVR44 44mm external wastegate
DEI titanium exhaust wrap.
Turbo Blanket
Tial Q50 50mm Dump valve
3 x Bosch 044 fuel pumps with Pre & post filters AN8 & fuel swirl pot 3ltr.
1000cc RC injectors
Nuke Performance AN8 Billet fuel rail
AN8 braided hoses
FSE power boost valve / Uprated fuel regulator
Turbonetics GTK-850 Ceramic Roller bearing Turbocharger with anti surge housing.
Silicone coolant & turbo hoses
Engine Torque damper
Custom 3" Intercooler pipework & to throttle body
GS - 3" throttle body Elbow
70mm Custom throttle body
Ported o.e inlet manifold
600x300x100mm core IC with 3" hoses
Custom 4" stainless downpipe
Custom 3.5" stainless exhaust system with 3 silencers
Separate silencer / exhaust system for the wastegate.
4 bar GM map sensor
Custom inlet setup 4"+ with HKS metalflow air filter
Aircon deleted
T7 Apc valve conversion
9-5 Twin cooling fans & millers radhib
Davies craig Electric water pump & controller EWP150
Oil catch can(Blue) with K&N breather filter
Larger all alloy race radiator
Mocal 25 row oil cooler with braided hoses.
Accusump
PAS deleted
water pump delete
Remapped T5 ecu by Saabnoob
Converted to RWD using BMW M3 E46 drivetrain & rear suspension
M3 Getrag 6sp gearbox with quickshift
Tilton twin plate cermatallic clutch & 3000 HRB.
Abbot Racing custom flywheel to suit the 7.25" clutch 2.9Kg
Lower f/d ratio fitted in the LSD.
A.P Racing 6 pot calliper conversion
362x32mm 2 piece disc & bell with Ferodo DS3000 pads
Goodridge braided hoses throughout
Castrol SRF brake fluid
Porsche 996 rear 4 pot brembos with m3 drilled discs 328x20mm
DS2500 PADS
ABS delete
OBP adjustable pedal box
Gaz gold coilover suspension all round with choice of spring rates.
Front Solid top mounts adjustable for camber & castor
9-5 Aero front subframe with ARB
Rose jointed droplinks
Powerflex Black Polybushes everywhere
including rear diff mounts & engine
D2 adjustable camber arms on rear suspension.
M3 uprated 23mm Ultra racing ARB
18" slicks 240-270mm mounted on 18x9" Wolfrace pro lite wheels in black (Front)
18 x 10.5" XRR rear wheels with 285-310mm wide slicks (Rear)
Interior stripped out for weight loss & tubular front end
Dashboard & heater removed.
Door skins & roof replaced with aluminium
9-5 front subframe & suspension arms
OMP steering wheel & hub
Transmission tunnel & firewall modified.
Windscreen wipers removed
Welded in omp rollcage - extra bracing to bodyshell & suspension turrets & inc X door bars.
Sparco Driver bucket seat with sabelt 6pt harness
Motordrive passenger seat with Sabelt 6pt harness
Polcarbonate windows (sides & rear) with window sliders in front side windows
Rear hatch now fixed & glass replaced with polycarb
Plumbed in Sparco Fire extinguisher 4.25 ltr
Lightweight race battery.
Jaz 25ltr foam filled fuel cell.
Front bumper cut & modified for intercooler installation inc. carbon fibre ducting
Custom aluminium rear wing on braced mounts with gurney lip
Carbon skinned bonnet
Canards / dive planes & custom skirts
Flat floor & under tray
crystal side repeaters with silvatec bulbs in all indicators
9-3GT badged
Custom wide steel arches front & rear.
Carbon fibre wing mirrors
Spare wheel well removed & steel plated over with underfloor composite diffuser
Roof vortex generator
Headlamp wash/wipe deleted
Custom front splitter & front wing.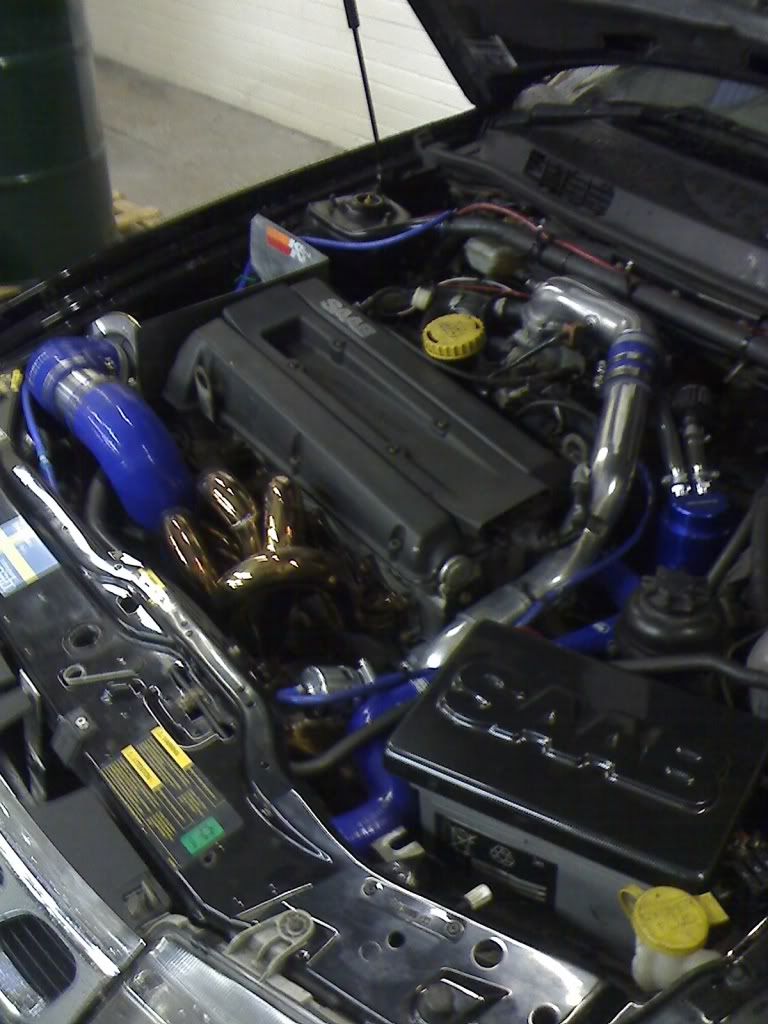 old pics before going RWD, engine now inline.
Am sure i've forgotten some will update as i remember them....
2005 93ss Aero (5 speed)
Noobtune stage 1 remap to 250 Bhp 370Nm
K&N panel filter
Bilstein B6 Dampers
Eibach lowering springs
EBC Yellow front pads.
mac audio 3.5" 2 way dash speakers
Alpine Type G 6x9" rear speakers in sound deadened shelf.
_________________
93ss Aero Noobtune stage 1
Project 9-3GT 484Bhp & 483lb ft / 654Nm
trackcar