Hi Jen, Good question which I hope that I am able to help you with.
Your car is now 6/7 years old and it may be likely that it has not been re-proofed since new. The key signs of this are no beading on the fabric after it rains....looks more like sodden fabric.
Dont worry, it wont seep through, as there is a waterproof membrane underneath the fabric itself.
So first up....give the fabric a good vacuum. This will pick up a lot of the trapped dirt.
Next. Use a good quality 'rag-top' cleaner. My preference is the Renovo System...a little more expensive than most, but does an excellent job.
After aggitating the cleaner, leave for 30 minutes.....most cleaners will have a foaming action which will lift off any dirt and grime. Then rinse off with an open ended hosepipe. Not Pressurewash as this will just make the cleaner foam.
Let the fabric dry off before you next do anything to it.
After it has dried, you may see on the fabric faded lines. These are caused by folds in the fabric, when in the boot or by the support bars themselves when up. If these are very faded, you may decide to re-dye the fabric, before you apply any proofer.
Lets asume that the fabric is in good condition...next up is waterproofing. Dont use a waterproofer that comes in a spray bottle...the damn stuff gets everywhere and is not as effective as a proofer which is applied by a brush or a sponge.
Two coats of proofer, applied 1 day apart usually does a fantastic job. The first coat applied thinly and 'stippled' into the fabric. The second coat just tops it up for a longer lifespan and better coverage.
You will now have a great waterproofed roof fabric. like this (these photos are after 4 months of applying Renovo).....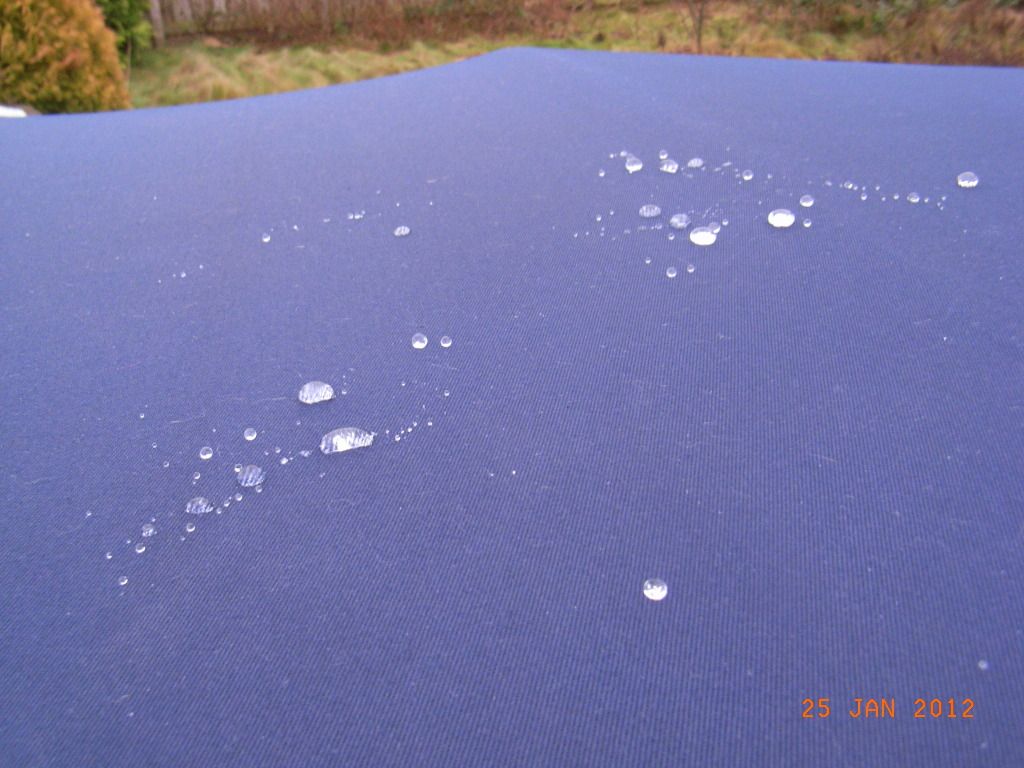 Now down to the nitty gritty of cleaning the roof on a regular basis.....
DONT USE SHAMPOO on the fabric
....Shampoo is a detergent and can strip off the waterproofing.
All you need to do is vacuum off the roof and then rinse off with an open ended hosepipe. If you use a pressurewasher, you could be damaging the waterproofing layer.
The waterproofing already on there allow the water to run-off very quickly and leave only a few beads to pad dry with a microfibre towel....so no watermarks left
Job done.
For maintenance....when you notice that you are not having any beading, and the fabric still looks clean, vacuum off again and re-apply another coat of proofer. If you did a good job in applying it first time around....that should be adequate to last a minimum or 1 , if not 2 or 3 years if garaged.
Hope that this helps you.